We offer a JET Mill lease program with mill sizes ranging between 2″ to 20″. This program allows users the opportunity for trial use to test for efficacy and equipment familiarization as an alternative prior to a capital investment. Leasing is especially appealing for controlled products, potent products, or for R&D activities. Mills can be leased by the month for short or long-term periods. In addition, the mill lease program allows users to complement their lease with a volumetric feeder and pressure header.
OEM Parts & Refurbishment
Jet Pulverizer continues to deliver even after the mill has shipped. Our Parts Support team, along with over 70 years of experience are here to maintain your mills. A large selection of spare parts is maintained at the Jet Pulverizer facility in New Jersey, ready for immediate shipment.
A comprehensive array of liners both steel and ceramic replacement parts are available for every mill in service. We work in close collaboration with our partners to meet customer needs.
Regardless of your mill age, our team can troubleshoot factors that maintain particle size performance. JET Pulverizer also offers a refurbishment program to extend the equipment life cycle.
In all regards, Jet Pulverizer is committed to providing prompt, effective response to all customer service needs. Our staff, both engineering and production, have many years of experience in providing jet mill service and installation. In case of operating difficulties, an engineering contact is always available during normal business hours to answer your questions and guide you through the troubleshooting process.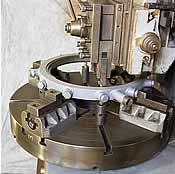 And, when necessary, a mill may be returned to the Jet facility for a no-charge inspection and evaluation or a Jet service engineer can be dispatched for on-site evaluation at a reasonable cost. Finally, when refurbishing is required to extend the service life of a mill, our quick response minimizes customer's production downtime.
Third Party OEM Support
Jet Pulverizer will support all manufacturers' Air or Fluid Jet Mills. We will help engineer, design and respond to the operational challenges and/or maintenance issues you may have. We will work to increase your operations' uptime, regardless of your manufacturers' Jet Mill.
Please complete the questionnaire below to contact us regarding parts, repairs, refurbishments or other customer service requests.