ISO 9001: 2015 Registered and FDA Registered
For over 40 years, Jet Pulverizer has been a custom micronizing partner of choice to the chemical, abrasives, ceramics, pharmaceutical, cosmetic and nutraceutical markets.
Starting as a testing facility for OEM sales, Jet Pulverizer's FDA registrered and ISO certified Custom Processing Division is now the largest division within Jet Pulverizer. From small tests to production projects, from hundreds of grams to truck-loads of materials, Jet Pulverizer's Custom Processing Division will get the job done with quality and professionalism.
Chemical Milling, Custom Processing, Custom Pulverizing, Micronizing, and Custom Grinding from Small Batches to Truckloads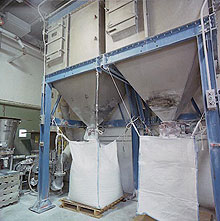 Precision Jet Milling 0.5 – 44 Microns
High Capacity Inert Grinding Services
Mechanical Milling
Blending
60+ Years Experience
Scrupulously Supervised
Consistent High Quality, No Contamination
Superior Service
Particle Size Analysis from Laser Diffraction, Microscopy to Sieve Analyses. Click here for more quality and lab information.
Offering Jet and Mechanical Milling, Laboratory Tested, Finished Sizes in the Submicron to 200 Micron Range.