Daniel Rice
Daniel founded Rice Industries while living in Richmond, Virginia. Originally inspired by the Danaher and Colfax business models, Daniel started Rice out of a strong desire to build an operating company with acquisition, as well as strategic and process improvement, as core competencies. As CEO, Daniel oversees organizational and process development, M&A and company strategy. Daniel's vision is to continue to build an enterprise with an extraordinary team that expedites material advancements. These advancements then drive improvements in plastic packaging, battery tech, lightweighting, renewable power, and 3D printing among other critical, secular themes. Before founding Rice, Daniel worked in M&A and private equity focused on chemicals, industrials, renewable power and bio-based fuel. He earned his MBA from Harvard and his BA from Middlebury College. Daniel has been influenced by his family members who have taught him that the best way to build a sustainable business is through dedication, perseverance and risk-taking. Daniel was inspired by his father who founded one of the first private equity firms and his grandfather who was Chairman and CEO of Allegheny Power Systems, one of the largest US utilities at the time.
Chris Arnoldt
As President of Rice, Chris leads all Sales, Business Development, Engineering, and Operations functions. Chris has been paramount in building the organization around innovation, quality, process and teamwork. Before being promoted to President at Rice, he created, built and led the Sales and R&D functions as Vice President of Sales. Prior to joining Rice Industries in 2019, Chris worked in polymer compounding and manufacturing at Edge Adhesives for thirteen years. Primarily focusing on saturated block copolymer formulations that were turned into various high-end industrial adhesives, coatings and pressure sensitive tapes. During his time at Edge, Chris managed the product development and sales teams for eleven active end-use markets from Aerospace to Building Envelope. From 2009-2012, Chris served as the elected Chairman of the American Architecture Manufacturing Association (AAMA) committee that was responsible for establishing all of the National Building Code and testing specifications for sealants, adhesives, coatings and psa tapes. Chris is the inventor on two patents that are commercialized and in active use globally and has developed dozens of private labeled products for some of the world's largest brands including 3M, DOW-DuPont and GAF. Chris is an active triathlete and swimmer, and resides in New York City.
Tony Asfor
Tony is the Chief Financial Officer of Rice Industries and sits on its Board. Tony joined in 2018 and leads Rice's financial, accounting, IT, and administrative efforts. Tony is a 20+ year veteran of the pharmaceutical and telecom industries, and public auditing (Big 4). Tony's experience prior to joining Rice included finance and accounting leadership roles at Catalent Pharma Solutions, Icon Clinical Research, and Comcast. Tony led finance for Catalent's Biologics and Small Molecule Laboratory, and the Pulmonary Manufacturing, and Micronization facilities. While at Catalent, Tony worked with Joe Drost, one of Rice's Board members.
Craig Davis
Craig Davis (BS Materials Engineering, Drexel University) has joined the Company in the role of Eastern Regional Sales Manager & Business Development effective January 4th, 2021. Craig brings 30 years of customer/market development experience in the custom/toll powders marketspace while working for LyondellBasell and A. Schulman. His deep knowledge of materials versus grinding equipment, powder characterization / analysis, and process / powder optimization will all be applied in order to help us build our position in new materials and markets. He lives in New Hope, PA with his wife, Patti, and children, Melanie and Cole, and enjoys guitar, music, sports, photography, and nature.
Kingsley Ezeanaka
Kingsley joined the company as the Custom Processing Operations Manager effective October 17th, 2022. He is a result-driven professional with extensive experience in production management, quality assurance, process operations, product development, cGMP, and regulatory compliance. Broad experience in food manufacturing and chemical production. Detail oriented with over 10 years of experience combined in manufacturing, and quality assurance. Kingsley manages all facets of GMP production for our Micronization Services Division, interfacing with production, suppliers, customers, and auditors to drive continuous improvement and exceed customer expectations. Kingsley has a B.Eng. degree in Chemical Engineering from Anambra State University, Uli. He lives in New Jersey and outside of work, he spends time with family, enjoys watching soccer, basketball, music, and road trips.
Joe Blatcher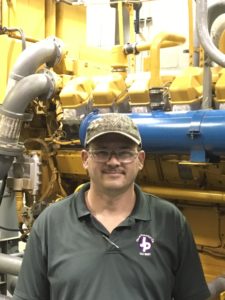 Joe Blatcher is the Processing Manager of the Processing business. He started at Jet Pulverizer in 2005, working from the ground floor as a material handler and operator to being the point person for scheduling, managing the operations quality, and increasing processing efficiencies.
As he raised up the ranks, he embraced taking more leadership roles such as training and customer interaction, and has developed a team of quality and safety focused operators. His mechanical and client facing background allowed him to spearhead positive quality, health & safety and culture initiatives inside the plant.
Joe likes to spend his time outside of work with family and friends, biking, hunting and volunteering for a variety of different charities.
Lisa Stoldt
Lisa is the Director of HR of Rice Industries. Lisa joined in 2022 and is responsible for leading all aspects of human resources including Rice's talent strategy to attract and develop talent at all levels. Lisa brings over 16 years of experience and has worked in freight forwarding, insurance and manufacturing industries in all facets of HR. Lisa's experience prior to joining Rice was in a site HR leadership role for Porex, Filtration Group, Payroll/Benefits Manager for Virginia Farm Bureau and before that worked for Savino Del Bene USA Inc for almost 12 years in various HR positions and the last 4 years as their Director of Human Resources. Lisa holds a BA in Psychology and Business from St. John's University and MA in Human Resources Management from the University of Richmond. She also holds her PHR (Professional in Human Resources) credentials from HRCI (Human Resource Standards Institute). She is a former competitive & collegiate swimmer and resides in Richmond, VA with her husband and two daughters.